Refined Modern Kitchen Remodel: Liberating space
Architect: Christiane deJong AIA
For more than twenty years, Barbara and her husband John had been living in a very unique 1960s modern home located in Mantua, a beautiful community in Fairfax, Virginia. With their children grown and no longer living at home, they finally had the resources to tackle their dream kitchen remodel.
As a talented cook, Barbara had always considered her small kitchen the creative center of her home. Because her kitchen was a cramped interior space without windows, it required a much-needed refresh. What she needed was a Virginia based architect who could provide a thoughtful, period inspired design and work in a highly collaborative way with her. She had ideas, honed in the years spent cooking in her kitchen, that she wanted realized in this renovation and, with this in mind, she reached out to Christiane.
While touring Barbara's home, the first thing we noticed was the light. Beautiful morning sunlight flooded the sitting and breakfast rooms adjacent to the existing kitchen. Unfortunately, the only natural light entering the kitchen itself came through a subdued pass-through window. The 60s-style cabinets were dark, the counter was beige laminate, and the floor was beige vinyl with a single central rectangular fluorescent fixture serving as the light source. It was a perfect time capsule ready to be opened and explored.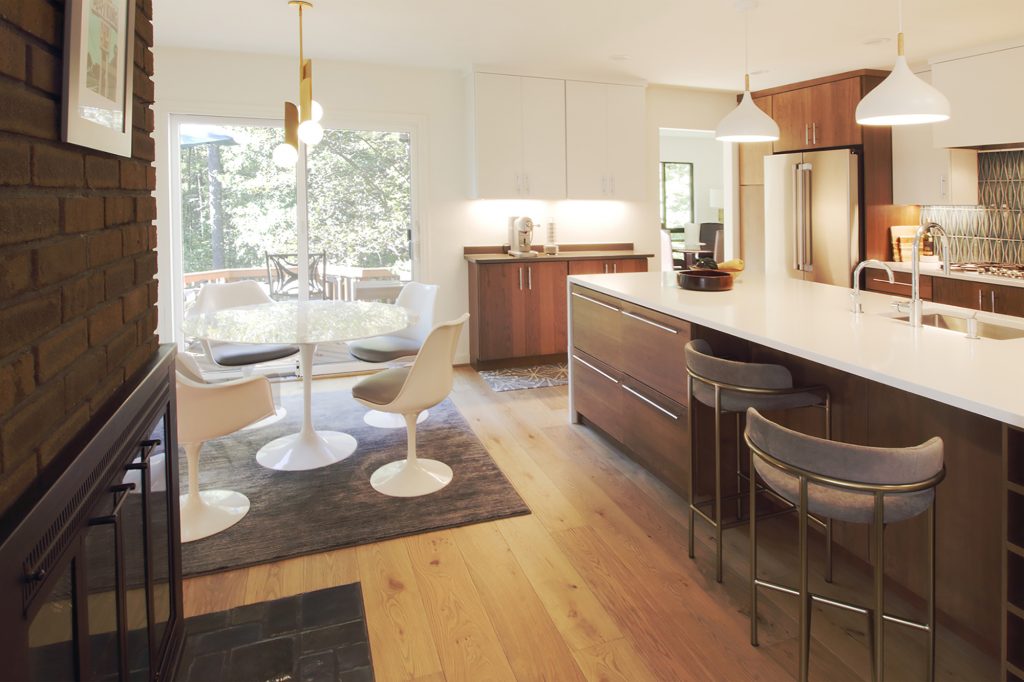 View of table area/kitchen as seen from the adjacent family room
We asked Barbara to complete our "Kitchen Inventory + Preferences" questionnaire and then interviewed her about how she used the space: how did she store everything she needed in this small space? Did she prefer to cook alone or while socializing? What types of countertop appliances did she keep here? What were her goals for this kitchen remodel? Her answers provided us with everything we needed to begin considering her future dream kitchen.
We started with a shared "ideabook" and asked Barbara to begin saving images of materials, along with images of kitchens and kitchen features she admired. This gave our team a sense of her specific wants and needs and a glimpse of the aesthetics she preferred. We added images and tested ideas we thought would compliment Barbara's strong sensibility and retro-inspired style.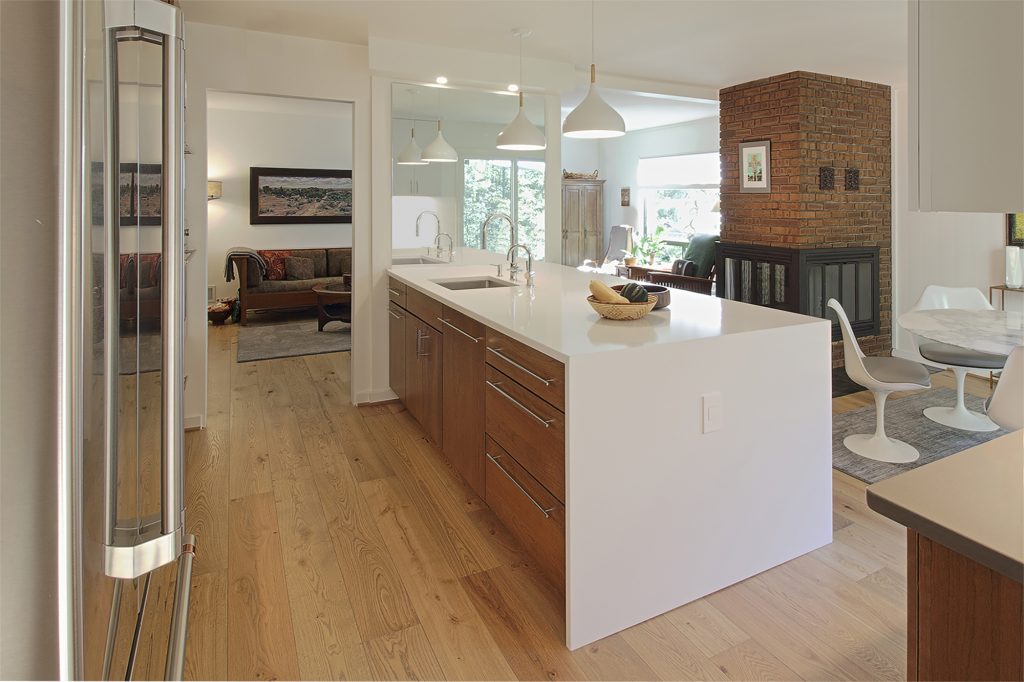 View of the kitchen looking towards family room
In developing the new kitchen layout, Christiane focused on creating a wide-open space. Barbara agreed that it was time for the walls to come down, and to do this, we would need a clever way to manage storage that relied less on wall cabinets. In the existing kitchen, we observed the three doors opening into this small space and noted that much of the footprint was dedicated to the circulation through and among these doors. We realized that in creating a more open kitchen, it would be possible to sacrifice two of the doors without hampering movement. This modification gave us more wall space as a location for full-height storage and base cabinets.
In the first design meeting, Christiane proposed three different layouts, and together, she and Barbara discussed the pros and cons associated with each. Christiane presented live 3D models that allowed Barbara to spin around and see what each of the designs would look like in her home. Once Barbara had selected the preferred schematic layout, we spent time developing the exact cabinet combination that would meet her specific storage needs. Christiane encouraged her to mentally move into the space to be sure that all items had been considered. Then as the process continued, Christine presented "look" boards and tile samples that she and Barbara spent luxurious hours discussing. The material palette and lighting selected at this stage would play a critical role in the final character of the space.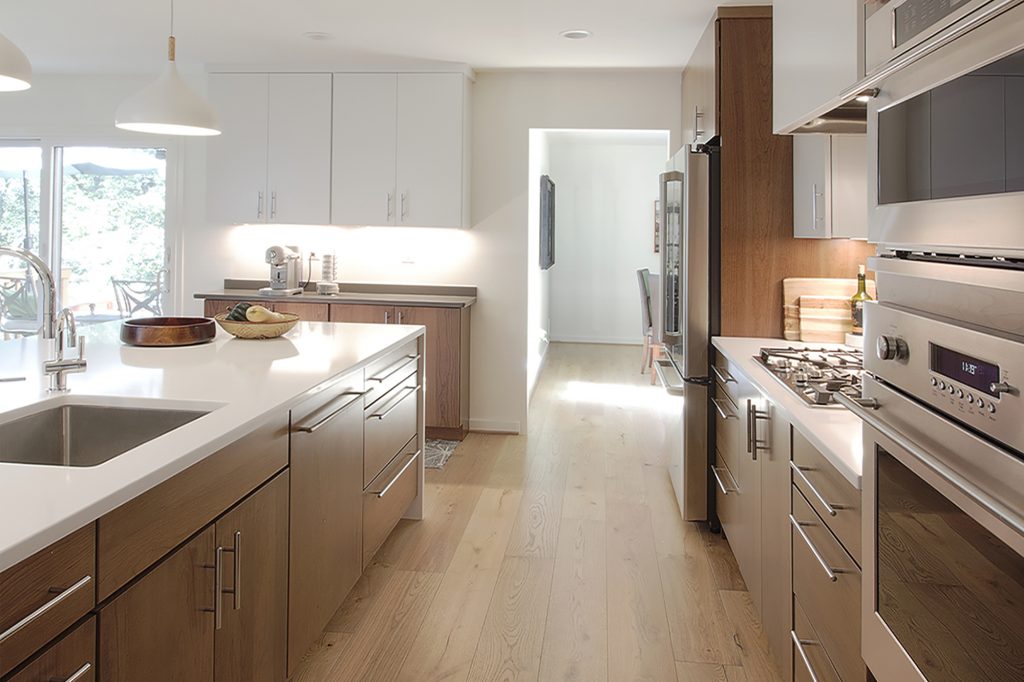 View of the kitchen looking towards dining room
The design that resulted is a modern, light-filled, high-functioning kitchen that is an integral part of the breakfast area and adjacent sitting room. In using warm wood tones, matte chalk white cabinets, and a rich emerald green 60s retro ceramic backsplash, we assembled a combination of colors and materials that perfectly complement the earthy palette of the existing fireplace and slate hearth. The new design integrates almost invisibly into the existing style and first floor of the home. Barbara, who is living her culinary dream, is thoroughly pleased with the job well done.