Fluid Modern Home Renovations: Infusing Light
Architects: Christiane deJong AIA, Builder: Custom Home Remodeling (kitchen) and Parz Designs (stairs)
Sometimes a project is about nuts-and-bolts architecture. Other times, it's about something more intangible. Kay is one of our favorite clients. She is an art collector, the daughter of an artist, and an avid curator of her own life. She lives in a wonderful mid-century modern home and surrounds herself with one-of-a-kind art pieces made by friends, family, and the many talented people she encounters on her life journey. Her approach to improving her home is one of celebrating milestones and crafting an idiosyncratic story. She is a delight to work with and naturally wants a home that is a work of art unto itself.
Kay is also a repeat client. We have tackled more than a few projects together, and in the first project, we focused on renovating what was once a very uninspiring kitchen. It was small and dark, lacked natural light, and was cut off by large cabinets that jutted out into the space and created a dead-end cook zone. Kay realized that in order to cultivate a love of cooking and entertaining, she would first need to feel at home in her cooking space. She enlisted deJong Studio to assist with this challenge.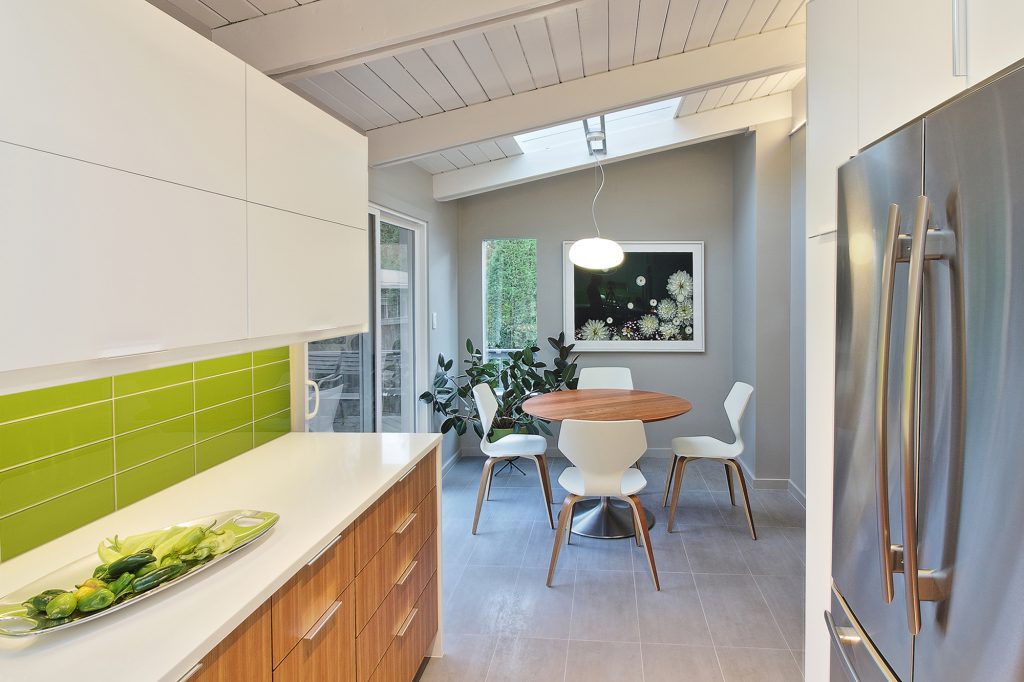 View towards new window and table area
Our first goal was optimizing the triangular work zone to operate at a new standard of efficiency. Christiane began by minimizing any elements that projected into space. She wanted a sleeker, circulating space to house the wall ovens, microwave, etc., and looked for ways to lighten the area. By moving away from the dark-stained and exposed structural ceiling, she was able to enhance the lighting and create a consistency between the day-lit and evening conditions. We then maximized the space by creating a stronger connection between the interior and exterior, tapping into the expansiveness of the adjacent deck area.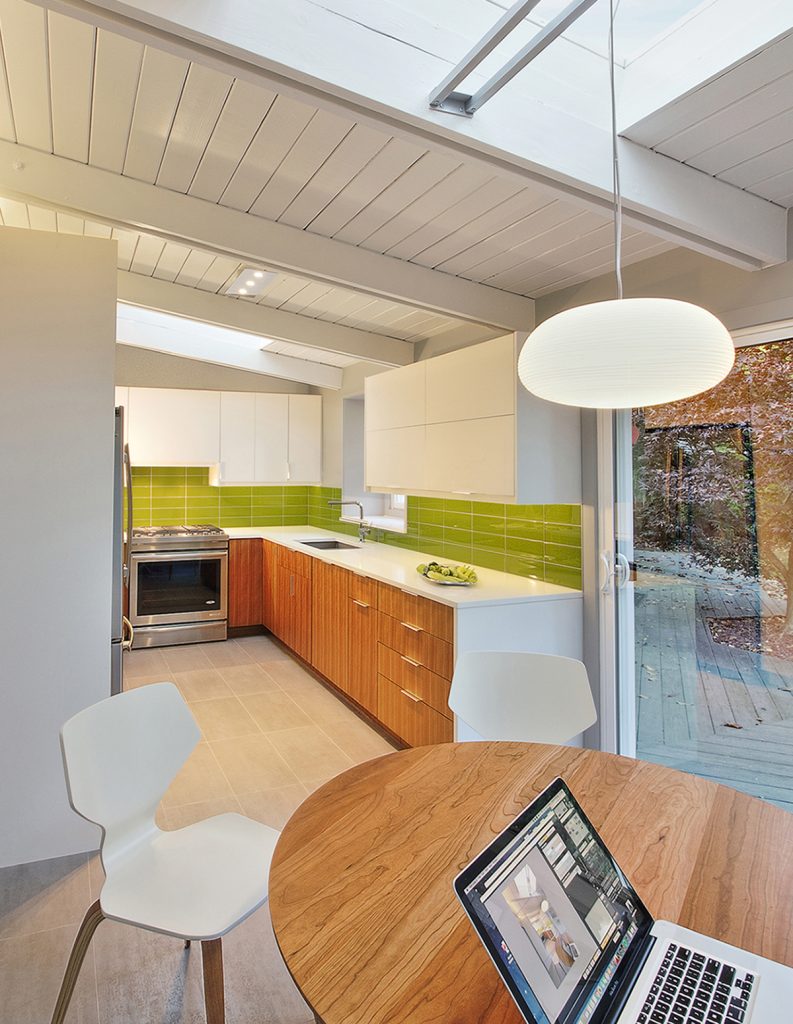 View towards U shape configuration at sink
Once completed, as is often the case, the finished results were much greater than the sum of the parts. The kitchen is now a vibrant yet restrained contemporary space that celebrates modern design and has Kay delighted. Will this space inspire her to cook more? Right now, she is saying yes!
Our second project with Kay involved replacing an existing stair that connects the two levels of her home. The original stair, located in a former addition dedicated to the stair alone, was built with heavy rough framing and positioned with a high return landing that sat above eye height when viewed from the front entry. Kay was searching for a more accessible, more finessed stair that would better connect the upper and lower levels of her home.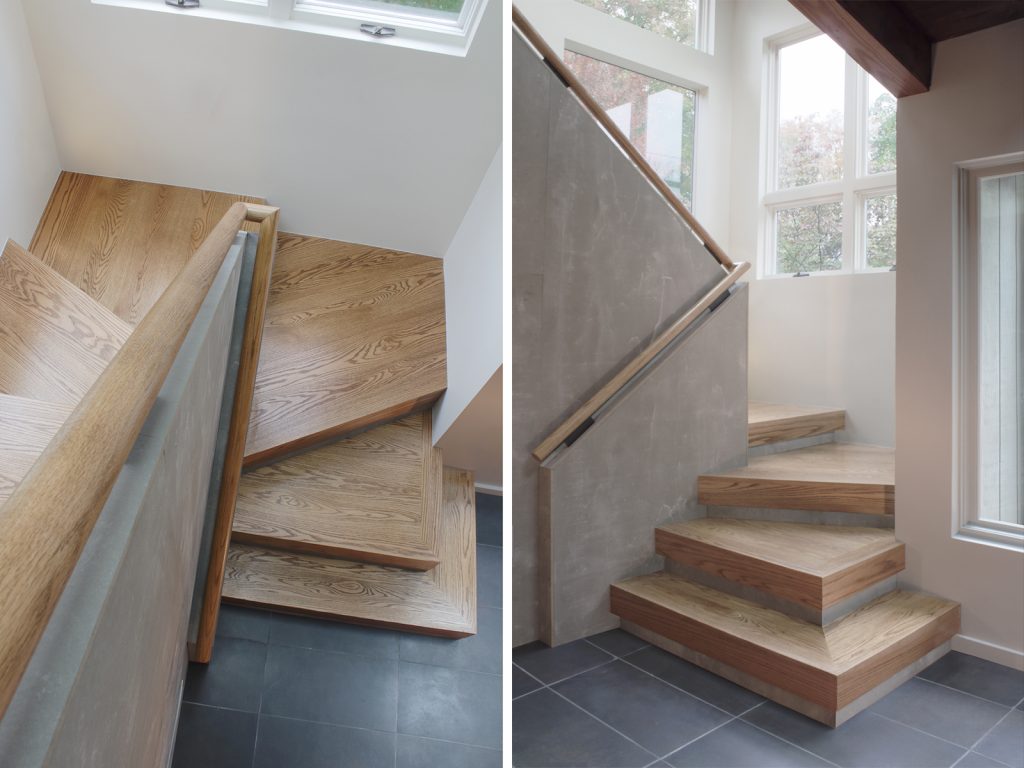 View of new main stair from top and bottom landings
This was a fun challenge. Christiane saw an opportunity to maximize the natural light in the existing stairwell. She began by eliminating the mid-level landing and creating a two-story concrete sculptural element that would serve as both a guard rail and visual connector between up and down. The elimination of the landing allowed for a better flow of motion and light to the lower level and ultimately strengthened the connection between the front entry area and the upper level. Christiane developed a set of cascading oak treads in an original geometric design. She incorporated a ribbon oak handrail and concrete panel guard rails—each fabricated from a common material but assembled in a singularly innovative style. Working closely with a fabricator, she designed custom steel handrail supports that anchor the stairs and offer a distinguished accenting detail.