Captured Modern Home Alterations: Repurposing Space
Architect: Christiane deJong, AIA, Builder: T.W. Herren
Chelsea, Bill, and their two kids are a vibrant, young, creative, DIY family. When they found their "diamond in the rough" mid-century modern home in Holmes Run Acres, they fell in love. They knew it would be a process to make it shine, and they committed to the elbow grease required. After a few years of tackling smaller projects, they approached deJong Studio for help. The challenge for them was addressing the carport-turned-Florida-room-turned-front-entry. It was dark and foreboding, filled with bikes and playthings, and didn't serve as a proper entry. They wondered what home alterations they needed to help this space better suit their needs.

View of front elevation and addition at far right
It was clear that the practical needs for storage must be met first. The bikes and boots must have a home. Next we began looking at the space required for the foyer. Given the generous size of florida room we also saw a chance to capture some  interior space for the family.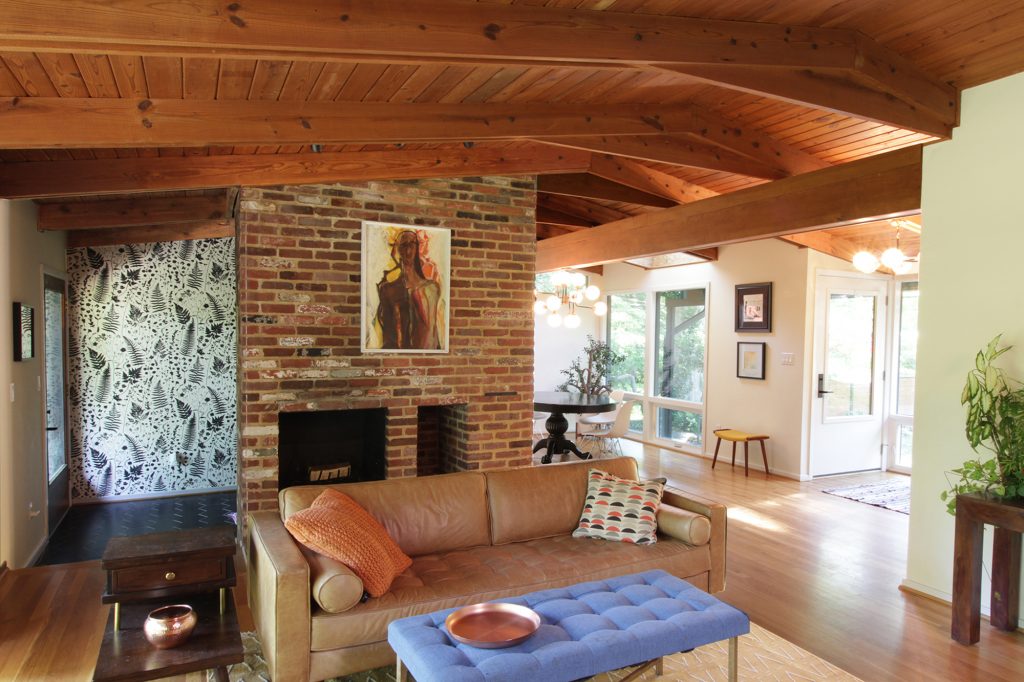 View of dining room from living room
Creating flow between florida room and the rest of the house became essential to converting it into a usable interior. Adding exterior walls and raising the floor to the main house elevation immediately made the space available for other uses. The next step was to propose a bold alternative location for the new entry. Here Christiane suggested relocating the dining room in the new space and adding an entry in the vacated dining area. Moving the entry over and setting the new dining room back creates a well defined front door under an overhang. Chelsea and Bill loved this idea.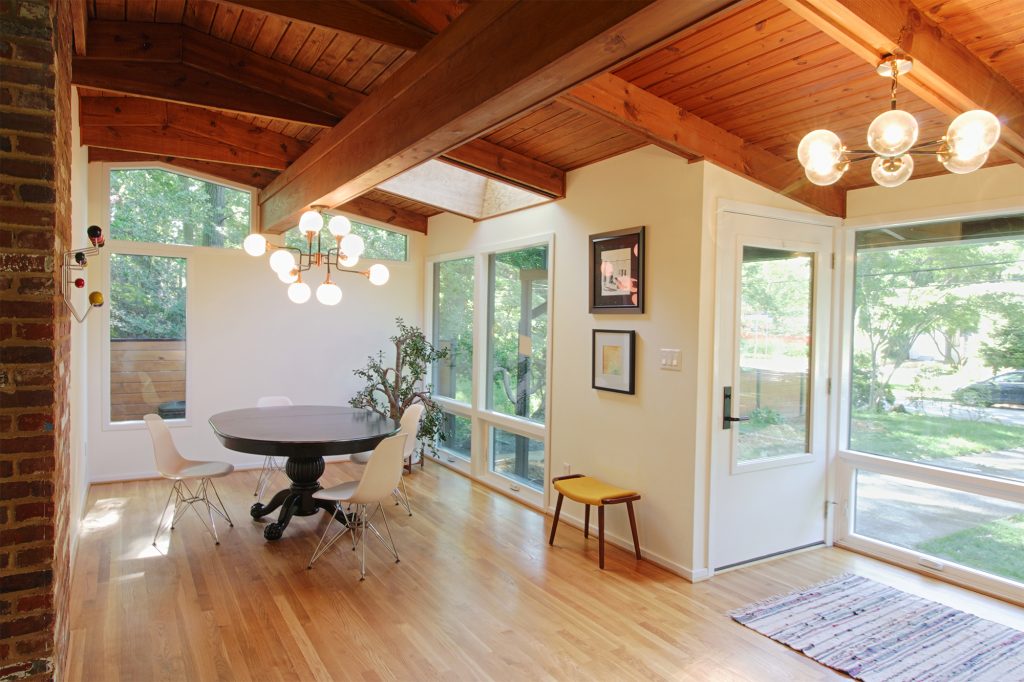 View of new dining room and entry foyer
Christiane enhanced this arrangement by turning the front door perpendicular to the street. This turn would allow us to create a foyer that offers that critical "pause" upon arrival. Last with the left over space in the florida room area we added a second entry/mud room for those boots.
When discussing material qualities for the new work Chelsea and Bill expressed appreciation for their home's original floor-to-ceiling windows. They provided a wonderful connection to the natural environment at the rear of the house. They also lend the living room an expansive sense. Responding to this, Christiane incorporated full-height windows in the front facade as well. This glazing increases the home's front-to-back transparency and offers a view into the woods beyond. In addition to this new work, Bill has restored the original cedar cladding, and added a new driveway with landscaping. The family home is now an inviting social oasis beautifully embedded in both nature and the neighborhood. The couple is now looking forward to their next renovation venture with deJong Studio: a lively, open kitchen.