True Modern Whole House Renovation: Embracing History in the Present
Architects: Christiane deJong AIA, Builder: Elite Contractors Services
Outside of a new build, few homes offer the precise, tailor-made design that perfectly accommodates a new homeowner's every niche need. However, with the right planning and a knowledge of what those needs are, home buyers can find a property that lends itself to that perfect addition or redesign. This pre-remodeling mindset is crucial for anyone who wants to purchase and preserve a home that feels lived-in or historic.
For this five-bedroom whole-house renovation project, homeowners Jennifer and Paul presented us with just this type of wild and wonderful fast-paced challenge. Their house-hunting search brought them to many beautiful mid-century modern homes, but none, they found, were exactly right for their family of four plus nanny. With their timetable growing tight, Jenn made a smart move and approached deJong Studio mid-hunt, sharing her family's objectives and space criteria.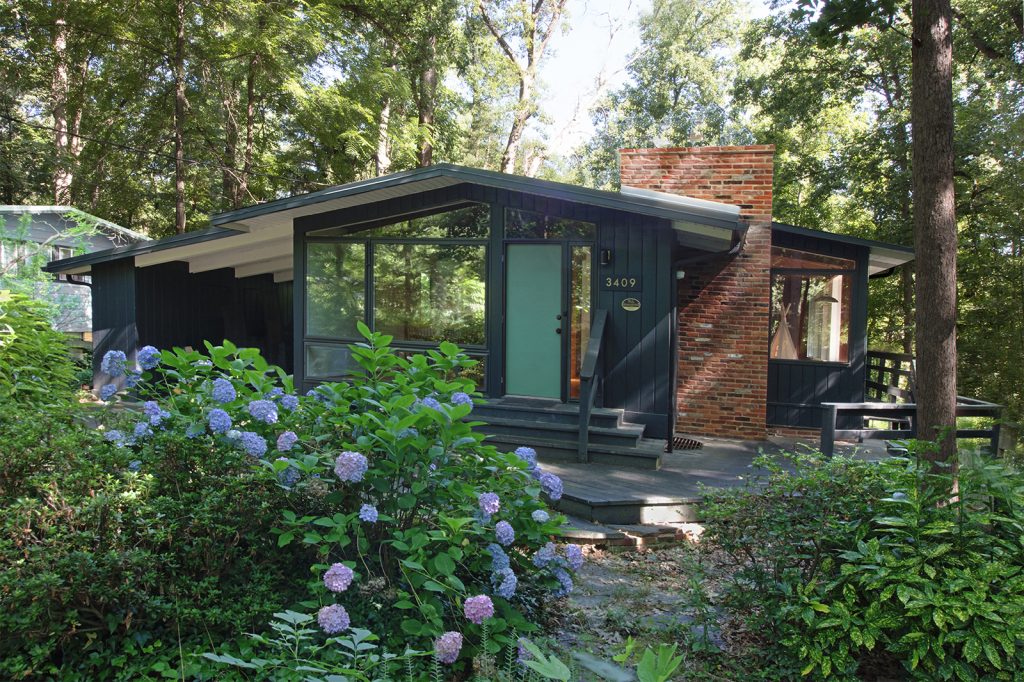 Street view of front elevation
Knowing this would be a highly efficient way to jump-start the design process, Jenn and Christiane began discussing remodeling possibilities before the purchase was even made. The couple knew they would eventually be selecting an imperfect home for their needs, and the design forethought helped them make the best possible choice. Then once the home was purchased, they would be well positioned to act quickly and work with an architect to develop a design and launch into the renovations and alterations it required.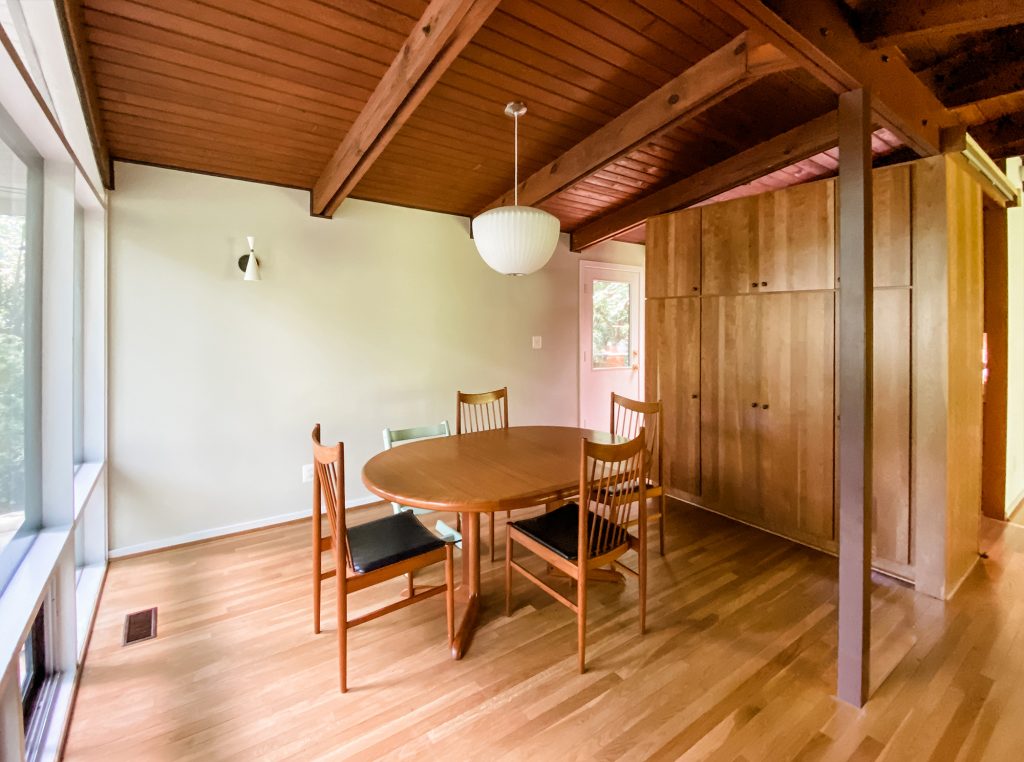 View of newly opened dining room
When the time came, Jenn and Paul selected a wonderful Holmes Run Acres mid-century modern house with a full glass front facade and a lovely warm-wood interior. The large living room possessed floor-to-ceiling windows looking out onto a private side yard with mature landscaping. A previously completed addition gave them a sunroom above and two kids' bedrooms below. In addition to these charming elements, however, many of the hardworking spaces were badly in need of an overhaul: the 1980s closed-off kitchen, the water-damaged bathrooms, and more. In addition to these issues, as with many of the Holmes Run Acres homes, the main upper living level lacked the three bedrooms that would allow Jenn and Paul to sleep on the same level as their two young boys.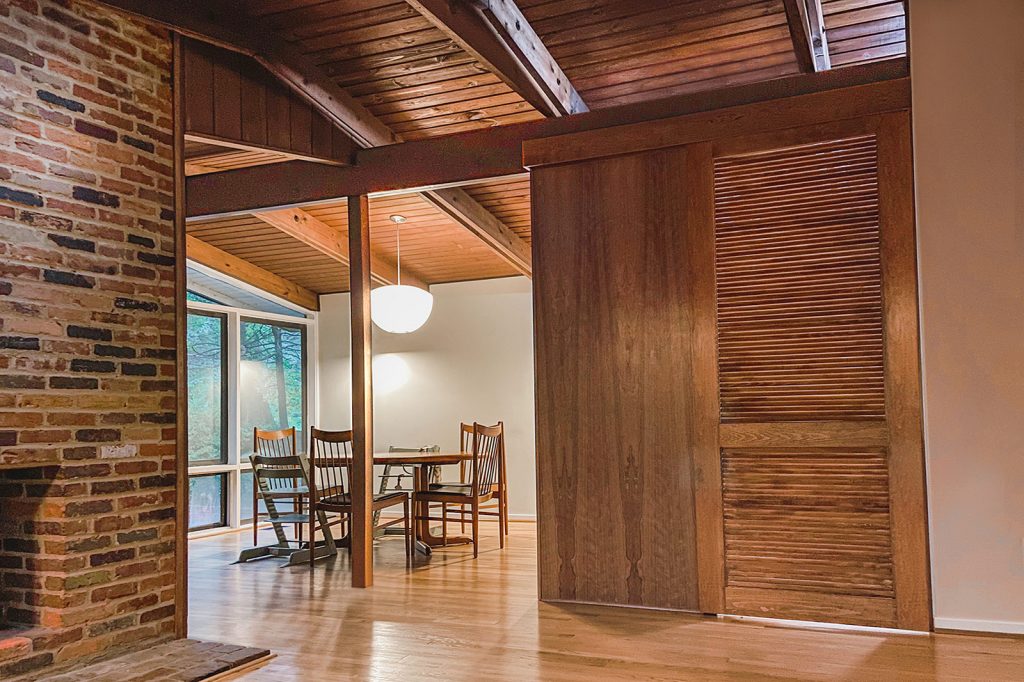 View of newly opened dining room and new kitchen door
To solve this need, Jenn and Paul wished to convert the downstairs family room into a master bedroom. They wanted to add a new master bath, a new master closet, a new kids' bath, a new laundry room, and a more centralized family room. They would also need a new electrical panel, furnace replacement, and the addition of new heat pumps in the boys' rooms. This ultimately required an entirely new layout, relocation of walls and wet spaces, and significant plumbing work. What began as a limited renovation project soon grew into a whole house renovation, and Christiane gladly took on this wildly ambitious challenge of completing both design and construction within an aggressive six-month time frame.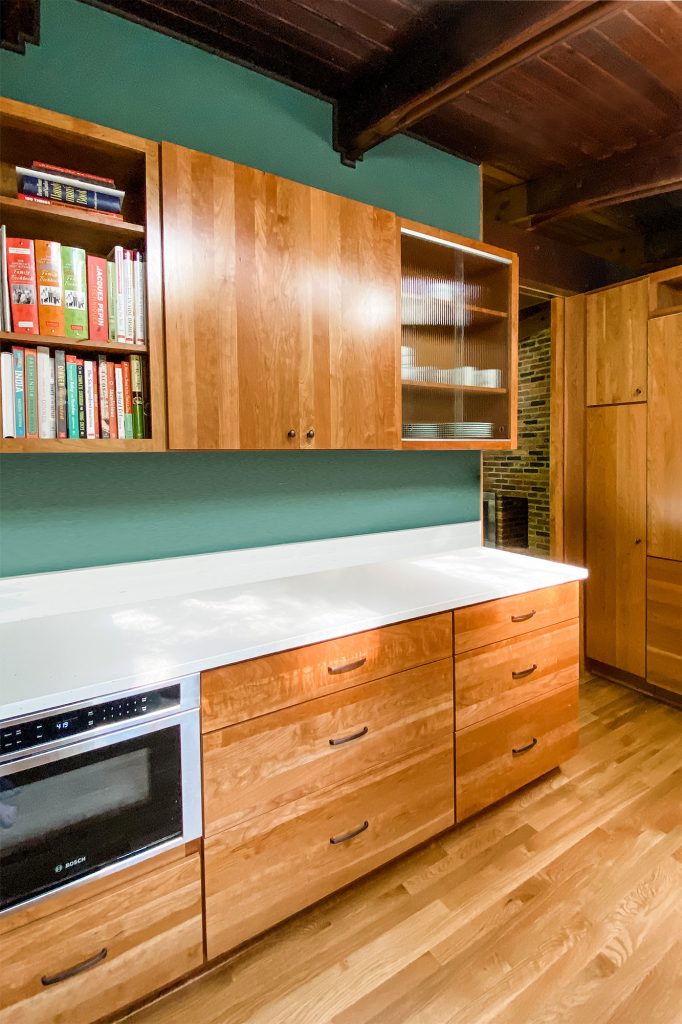 View of kitchen retro inspired cabinetry
The design process, although compressed, included luxurious hours identifying precisely the right configuration and finishes. Christiane conducted extensive period research for built-ins, and the final design included replacing the kitchen/dining wall with a full-height cherry cabinet room divider, installing a handsome mid-century modern inspired louvered/sliding door, and putting in custom cabinets for baths and laundry. To round out the built-ins, we proposed an extensive array of period tile options, plumbing fixtures and fittings, light fixtures, wall and floor coverings, and paint colors. For each, our 3D modeling became an invaluable tool, allowing the couple to preview the design and their material selections on location, thereby eliminating any guesswork.
What resulted for Jenn and Paul is a beautiful home rich in mid-century modern character where it is all but impossible to delineate between old and new. In this environment of simple elegance merging seamlessly with the functionality of a newly built custom home, the family has, at last, found their forever home.