Lofty Modern Home Expansion and Whole House Renovation: Expanding from Inside Out
Architects: Christiane deJong AIA and Robert Arnouts AIA, Builder: T.W. Herren
That expression "the cobbler's children have no shoes" applies across disciplines. So many professionals invest all their expertise in their clients and customers while inadvertently neglecting themselves. Christiane and her husband Mark spent years dreaming about what their own mid-century modern home could be—if only they had time. But when the day finally came, they knew they were ready. They had invested years of sweat equity renovating the kitchen and baths themselves and even tackled the uncreative but necessary infrastructural upgrades. During the preceding years, their family had expanded to include two children, and, like most families in a starter home, they now needed more space.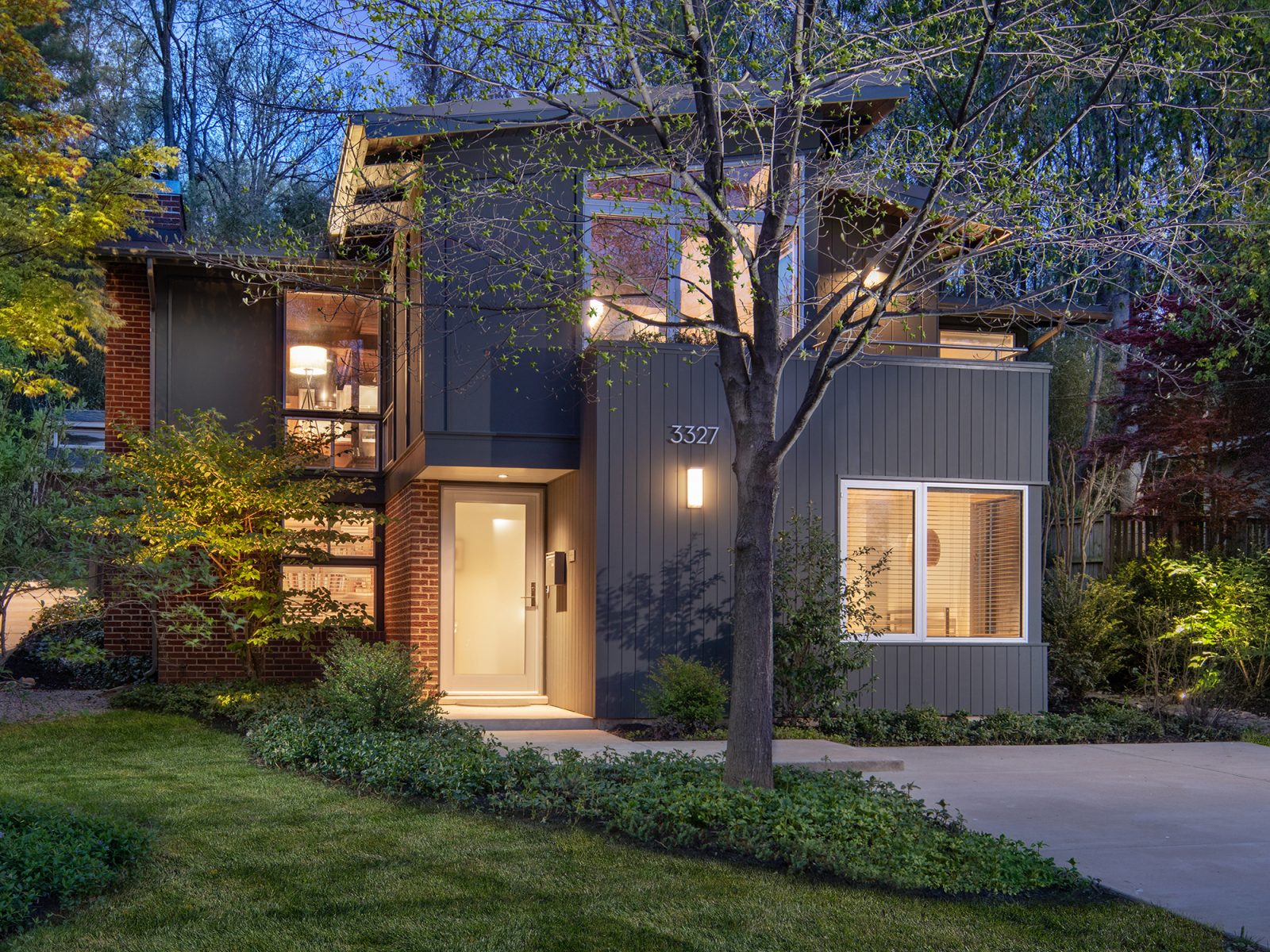 Street view of front elevation showing new addition
Like many deJong Studio clients, Mark and Christiane live in Holmes Run Acres, a wonderful northern Virginia, a mid-century modern community designed by well-known architects Satterlee and Lethbridge. Over the years, Christiane had sketched out numerous options for how they could expand the space. Each iterative sketch was informed by a growing appreciation of the home's existing design. What they needed was just enough added space to keep the current home modestly competitive in today's real estate market. This was a familiar challenge—one she'd been through with client after client. Christiane sought to add space and functionality while preserving and complementing the home's original design.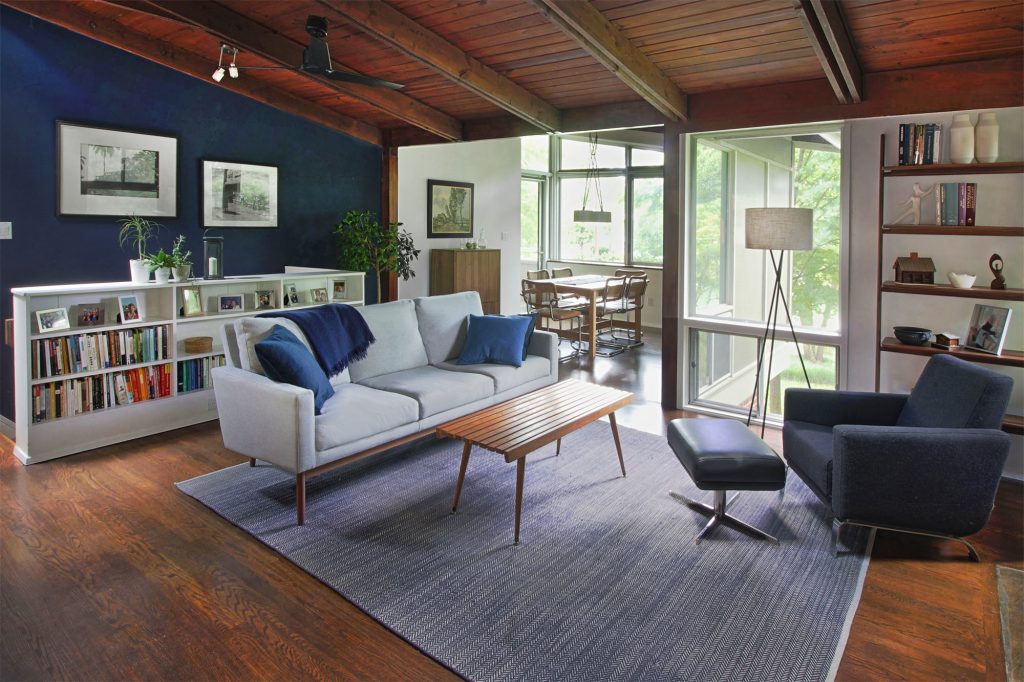 View of dining room addition from living room
Christiane and Mark wanted their two-story, three-bedroom home expanded to include a small fourth bedroom, a dining room, and a small master bath. While theoretically possible, that is a significant amount of new space to add to an existing starter home of only 1,800 square feet. Looking at the setback criteria, it quickly became apparent that a rear or side addition would not be permissible by local zoning criteria. This meant a front addition was the only option, and to do this well, Christiane spent copious hours exploring ways to minimize the bulk of the volume associated with this new space.
With a front addition, the challenge lie in developing a design that would allow the original house to read through even as a new area was introduced. The answer became clear: stack the spaces. Keep the volume tight to the original house and minimize bulk by breaking the addition into a composition of smaller volumes. For additional help, the deep front yard meant that the house and addition would always be viewed from a distance. Christiane saw this as an opportunity and, as she launched into the design process, continually considered multiple critical viewpoints from the street.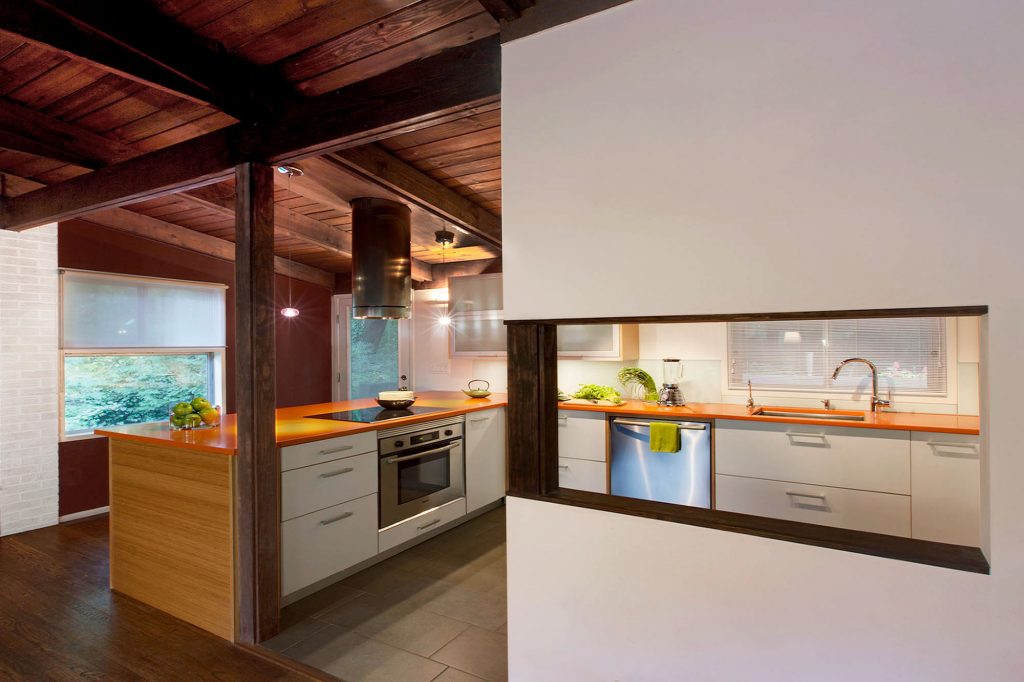 View of renovated kitchen from living room
Christiane and Mark are passionate aficionados of mid-century modern design. At the same time, they knew they wanted the design of the addition to stand out in its own right. They found certain components of the original design to be lacking. For instance, they wanted a covered entry, an entry foyer, and a way to greet arriving guests from the upper-level living room. Christiane was confident these features could be integrated using compatible elements of modern design that had not been employed in the original design. Integrating new modern elements like a cantilever and small roof deck, along with new aluminum windows, would allow the new work to stand out from the original work while continuing to honor the mid-century modern lexicon.

View of renovated hall and new master bath
After months of construction, much of it self-built, together they achieved a highly space-efficient 400 square-foot front-side addition. The addition proved to be an absolute game-changer for the deJong family. Not only did it offer much-needed room for growth, but it also served to shift the perceived center of the house forward toward the street. The living room, which was once fine for the family but too small for entertaining, now took on the character of a wide-open, light-filled loft space. The high-sloped dining room space and adjacent balcony connected the home's interior and exterior elements, remediating the former separation and sense of confinement. The small master bath supplied much-needed privacy for the primary bedroom, and, most importantly, the cantilever over the front door and foyer vastly improved the home's entry and a visitor's first impression. At last, the completion of construction represented the culmination of years of thoughtful effort, and the family could not be happier with the roomy results.