Coastal Modern Custom Home Design: Creating a Sense of Place
Architects: Christiane deJong AIA and Robert Arnouts AIA
This inspired project began when our clients Dave and Stacy came to us looking to seeking a perfect waterfront custom home design. Years before, while still a young couple, they had purchased a choice piece of rezoned farmland on the Rappahannock River in the northern neck of Virginia. They would park their camper next to the old heavy timber barn and spend happy days watching their son grow into a young man and eventually leave home. This place was the center of family gatherings, weddings, and anniversaries, and the couple's dream for the next chapter of their life included building a home in this beautiful part of the country. Dave's father had been an architect, and he grew up intuitively understanding how thoughtful design could help him achieve the kind of life he desired. He and Stacy just needed a skilled Northern Virginia architect to assist them.
The two had a clear idea of what they wanted. They had been shopping for just the right style and floor plan for years, and they approached deJong Studio with this information in hand. They sought a design for a two-bedroom, two-bath custom home in a traditional Tidewater style. It would also include a wraparound porch and a mudroom entry for muddy boots after a full day working in the garden.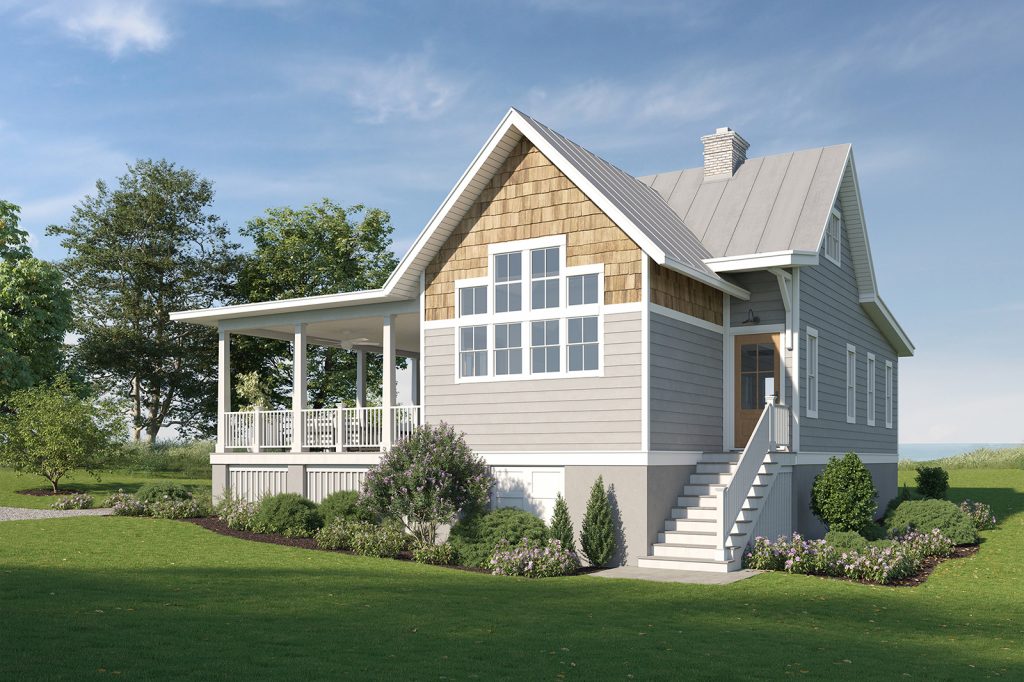 Waterfront side view of home
With the property's stunning location at the river's edge and with the land already largely cleared, the home would rest atop a gentle slope with a long graceful drive bringing us from the road to the buildable area. In working with Dave and Stacy, we loved their no-frills, sensible approach to design and construction. After years of camping on the site, they saw a home with a roof over their heads as a luxury in and of itself. This made them highly amenable to Christiane's suggestion to create a home with a small carbon footprint and we soon shared a common goal of a sustainable design.
Although the property and the river are situated at the mouth of the Chesapeake Bay, the view was blocked by a grouping of trees at the river's edge. For sight-line purposes, Christiane positioned the house at the highest point of land and proposed creating a clearing that would allow for a better glimpse of the water. She designed the wraparound so visitors and residents could take in this remarkable view of the horizon.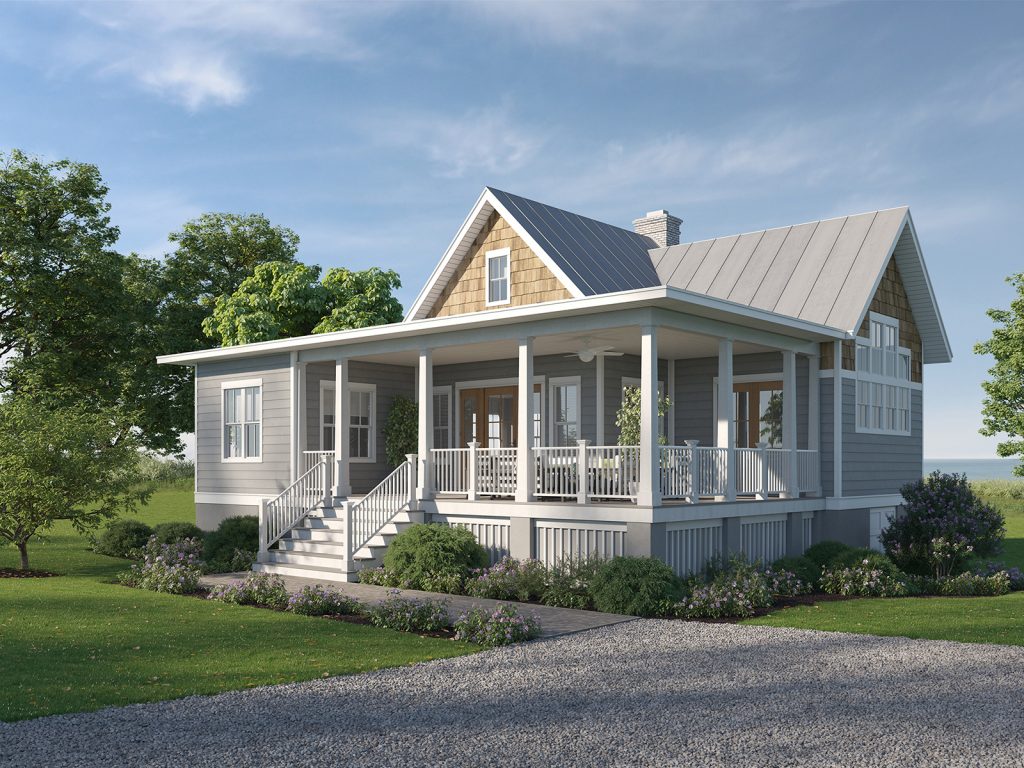 Front elevation of home showing wraparound porch
We love the Tidewater style the clients desired, and by integrating some subtle transitional elements, Christiane was able to employ a simpler trim package: a pared-down cladding and a modern interior with a vaulted ceiling. She added an outdoor shower and a large modern kitchen with a pantry. She created a separate bedroom wing to isolate from late-night-gathering noise and added a powder room located off the mudroom in a way that allowed it to serve as an extra toilet for the bedroom wing.
At the exterior, we employed a traditional standing seam metal roof with clapboard siding, double-hung American farmhouse-style windows, and a fieldstone fireplace. Our team supported the design with smart, sustainable systems like greywater recycling, solar panels, an on-demand hot water heater, and heat pump heating and cooling. Wherever possible, we sourced long-lasting, local, renewable building materials.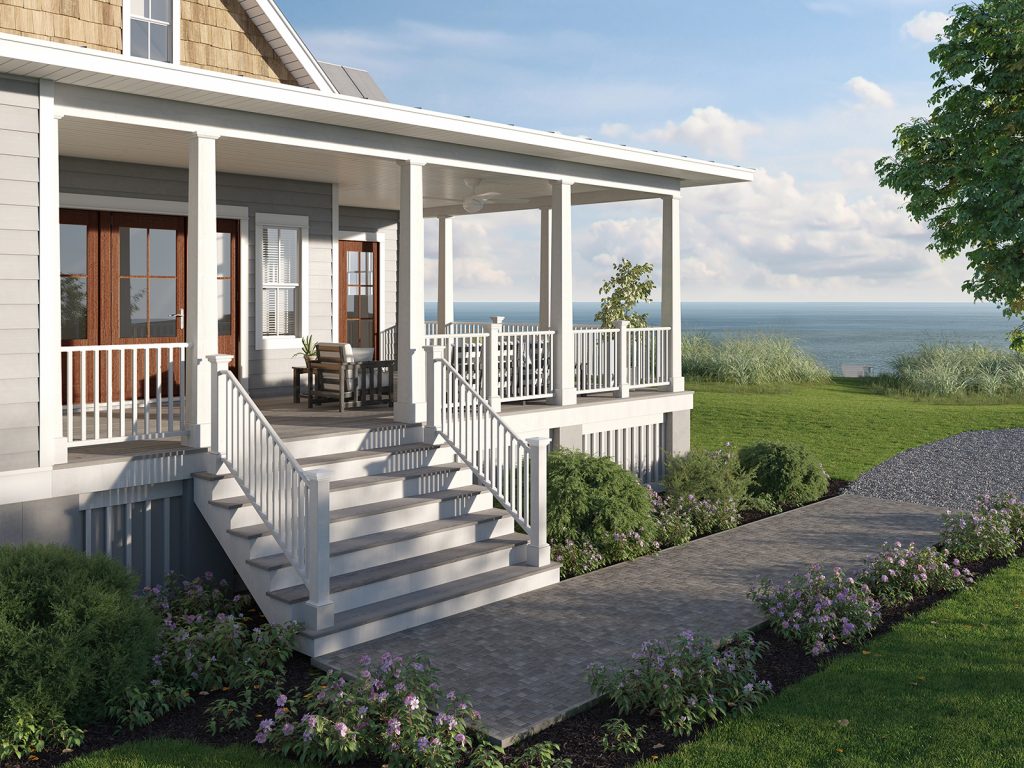 Water view from porch, the classic outdoor space
Dave and Stacy were delighted with the outcome of the design process, as was our team. Although building will not begin for a couple of years, the completed drawings have allowed the couple to price the construction, begin downsizing, and shop for that just-right builder. We cannot wait for them to build —and we half expect they will want us to add bedrooms for the grandkids when they do!